Would you like to earn a master's level degree in the UK? Do you demonstrate genuine financial hardship for the study? If yes, then don't worry because the University of Leeds' GREAT award is here to help students financially.
This is a beneficial program that can make your studying abroad like a piece of cake. The GREAT award is accessible for exceptionally talented Indonesian students applying for a relevant taught program of study in the UK.
Application Deadline: May 10, 2020
The University of Leeds is a public research university has 39,000 students, consisting of 9,000 international students from 170 countries around the world. The history of this institution can be found as to establish in 1874 as the Yorkshire College of Science.
Why study at the University of Leeds? This university is one of the UK's largest institutions of higher education. Its campus is one of the most diverse and multicultural in the UK, making it the first choice of students. The standard of its undergraduate and postgraduate education is recognized worldwide.
Benefits
The University of Leeds will award one scholarship worth £10,000. This award will be provided as a tuition fee deduction for one year of taught master's study.
Concise Description
University or Organization: University of Leeds
Department: N/A
Course Level: Masters
Award: £10,000
Number of Awards: One
Access Mode: Online
Nationality: Indonesian
The award can be taken in the United Kingdom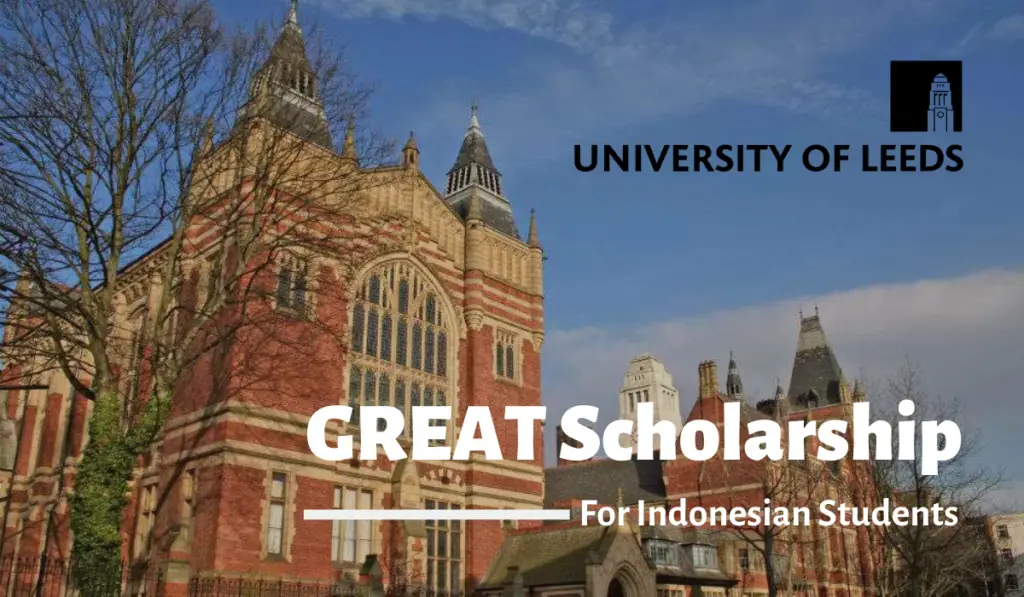 Eligibility for GREAT funding for Indonesian Students at the University of Leeds, UK
Eligible Countries: Indonesia
Suitable Course or Subjects: Master's courses in any subject for the academic year of 2020-21
Eligibility Criteria: To be qualified, the applicants must meet all the given criteria:
Indonesian passport holders only
Must first apply for a relevant taught program of study and receive an offer of a place of education to be eligible to apply for this award.
Application Procedure
How to Apply for GREAT funding for Indonesian Students at the University of Leeds, UK: Before stating application for the opportunity , applicants must apply for a relevant taught programme of study and get an offer of a place of education to be eligible to apply for this GREAT Scholarship.
Candidates after taking part in a master degree program at the University of Leeds can start the application process of this application with the Student Application ID. The method includes completing an online application form.
Supporting Documents: As accompanying documents, you must provide the following:

An essay that outlining in no more than 500 words – 1) why the University of Leeds should reward you with a scholarship and 2) why you would like to study in the City of Leeds.
A personal statement
A CV
A portfolio
Translation tests
Two referees

Admission Requirements: Admission requirements are varied course to course. However, you will be asked to provide a bachelor degree to take admission in the master program.
Language Requirement: To study at Leeds must meet all the language requirements. Following certificates are required for master level education:

IELTS
TOEFL iBT
PTE Academic
Cambridge Advanced English (CAE), or C1 Advanced,
Trinity College London Integrated Skills in English
GCSE English Language at C/4; or Cambridge IGCSE English as a First or Second Language or Oxford AQA IGCSE English Language or English as a Second Language at C.
Our scholarship administration expertise has helped thousands of students from developing countries.
Got a question? Email help@ giftalmoney@gmail.com